Srinagar: G20's working group meeting hoisted in Kashmir is proving game changer for Jammu Kashmir. Miss world along other beauty pageant of world had one day Srinagar tour.  A pre-event to the Miss world 2023 was held here in Srinagar, where along with the Miss World, many beauty queens like Miss World Caribbean, Emmy Pena; Miss World America, Shree Saini; Miss World India, Sini Shetty; Miss World England, Jessica Gagen; Miss Asia, Pricilia Carla Saputri Yules attended. The Chairman and CEO of Miss World Organization, Julia Eric Morley was also present. It made more glow in Kashmir's natural beauty.'

As India is hosting the 71st edition of the Miss World 2023 pageant, to be held later this year. A tour of Srinagar city including the world-famous Dal Lake was organized for the beauty queens. All the visiting beauty queens were taken on shikara rides by the department of tourism. And all of them were praises for the beauty of Kashmir. 
Karolina Bielawska Miss World said "I love Kashmir and they are doing an incredible job. Would love the entire world to see it. I cannot wait for other contestants to come here and see this place. I hope they will bring them here as well as I hope they will enjoy this experience. India has so many beautiful places, India is very diverse and everytime I come here there is something new that I experience. Every state has so much to offer and is extremely hospitable.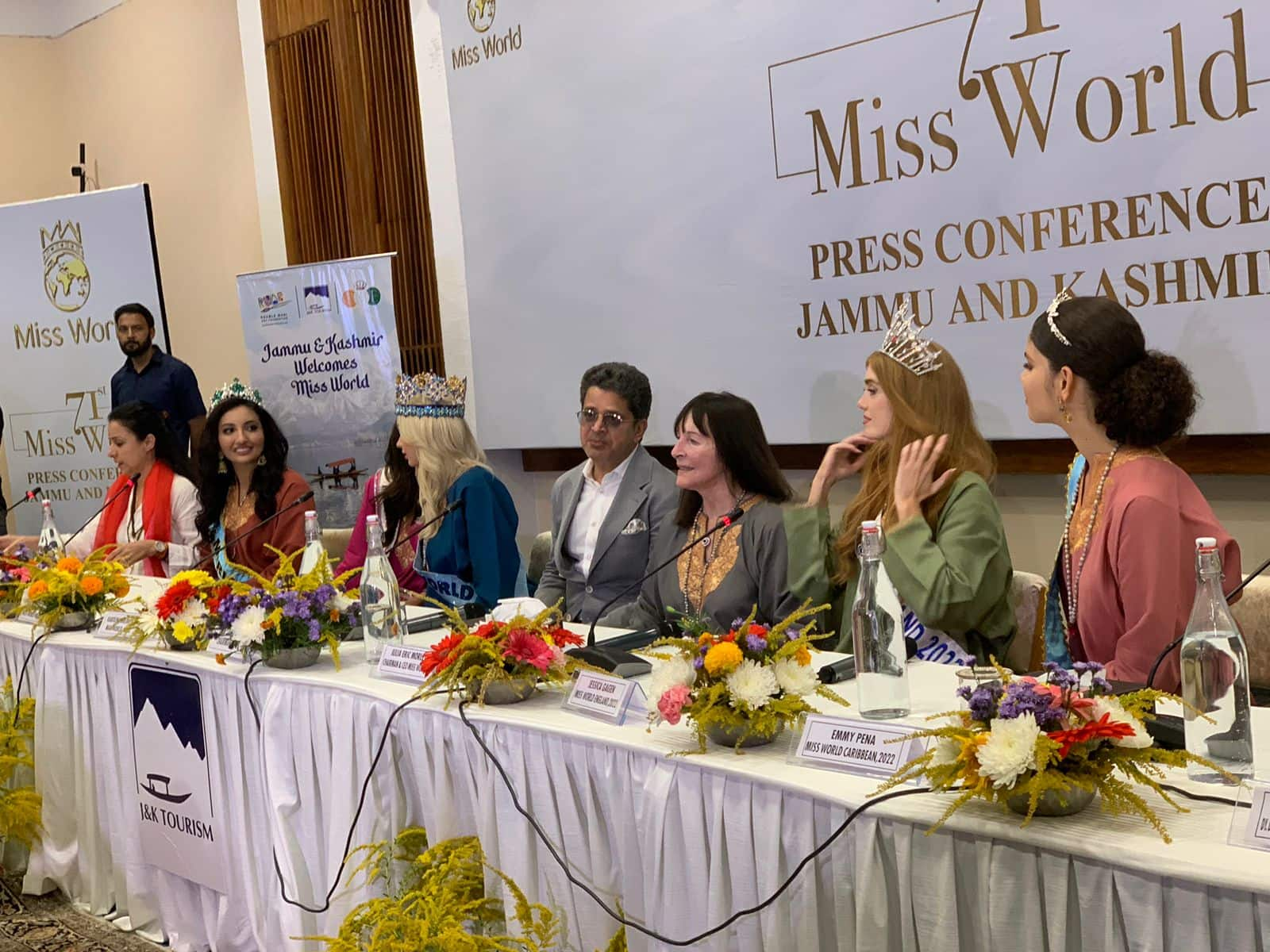 India, which has won the prestigious title six times, is hosting the pageant after nearly three decades. The last time the country hosted the event was back in 1996. And while Miss India world is travelling along the already crowned Miss World Karolina, she says it will help her in the competition. The two of these beauty queens were seen enjoying each other's company as they took the shikara ride together while taking many selfies. 

"I think Karolina is the biggest source of inspiration as Miss world, I have learnt a lot of things, a lot of poise and grace and how you conduct yourself as Miss world, and everything that she does is an example of how I can improve myself. And maybe my stars will align, and I get the miss world title. The entire Miss World organisation along with Karolina have enjoyed the colors of Kashmir Valley, and the people here are really sweet. I am super excited to be in my home country and get to welcome 140 countries and show them what India is actually. It is the most picturesque place I have seen. Siad Sini Shetty Miss India

The government of Jammu and Kashmir and event organizer says events like these will put the valley on an international map. The day's visit by Miss World to Kashmir, promises to be a blend of elegance, artistry and cultural exchange. They said after abrogation of article Kashmir is touching new heights. 
Roubel Nagi organizer of tour said "After abrogation of article Jammu Kashmir is touching new heights, the G20 working group meeting had changed the perspective of Kashmir, thousands of foreign tourists have visited the valley apart from record domestic tourists." 

Around 17 thousand foreigners landed in the Kashmir Valley in the first six months of 2023 and with this event tourism department is hopeful that not only it will boost the foreign tourism but also there is hope that negative travel advisories will be withdrawn.